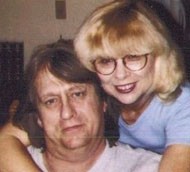 10/3/45 - 12/25/99
When he shall die,
Take him and cut him out in little stars,
And he will make the face of heaven so fine
That all the world will be in love with night,
And pay no worship to the garish sun.
Romeo & Juliet
William Shakespeare
EJ (Ennis Jackson Brown III) was a beloved man that we had the opportunity of knowing in the Boomer 3 section of this massive internet. EJ passed away on Christmas Day from a massive coronary. He was 54 years old. He will be missed enormously. He was the most loving, generous, intelligent and funny man with a sense of humor that would leave you laughing for a long time. I guess God decided he wanted EJ to be the official greeter to the gates of heaven for all of the boomers that are gonna eventually be making their way up there......and I don't think God could have found a better person to help Him out there!
I have attached a picture I had taken with him some two and a half years ago. Laa Laa
~~~~~~~~~~~~~~~~~~~~~~~~~~~~~~~~~~~~~~~~~~~~~~~~~~~~~~~~~~~~~~~~~~~~~~~~~~~~~~~~~~~~~~~~~~~~
EJB8552. He's been gone for three weeks and I still have him on my buddy list. I sent him an email, two days after he died. It made me feel better. But he hasn't answered it yet. At least, not in writing. I go into the B3 chat room and no one mentions him. But we all know he's there. For my part, I'm grateful to my friends for knowing I just need them to be there today. No one needs to mention his name. It's why we're all in the chat room, two days after he died. No more ims popping up on the screen, "Hey Sugah. How are ya?" I know he says to all the ladies <g>. I still like to think I'm the only one.
They don't come any better than Mr. Brown. He had the heart of a lion and the morals of a skunk, God love him. I would have loved to have shown him New Orleans, the site of his lost weekend, one more time.
I love you darlin'
Carolyn
~~~~~~~~~~~~~~~~~~~~~~~~~~~~~~~~~~~~~~~~~~~~~~~~~~~~~~~~~~~~~~~~~~~~~~~~~~~~~~~~~~~~~~~~~~~~
Return to the Remembrance Page
Return to the Boomer Main Page