Joby Gosh - Nancy Moore

Picture of Mike is needed, please?

April 10, 2005
Please leave virtual flowers and a note for Joby on her Findagrave memorial HERE
You could not help but smile to meet Joby. A generous, loving, gentle soul whose presence lightened every room and heart.
Mike? The best description I have read: He was a nut, outrageous, fun and a wonder. Gonna miss you, Zack.
My deepest sympathy to Merlene, Dean and their families. Anne
---
My deepest sympathy goes out to Merlene and her family for the loss of Mike, to Nancy's husband Dean and the family. I remember many laughs and fun times in boomers with Mike there. Sadly we say goodbye to another friend.
I had the honor of knowing Nancy and her family. She will be missed very much. Nancy was a kind and caring person and friend always. Donna aka WTink45858
---
I didn't know Nancy well but the few times I was with her in the room she just lit the room up... She had mentioned her cancer and was very brave about fighting it. I admire her courage greatly. God Bless Dean and the family. God Bless and Keep You during this time ..
.I remember all those years ago when I first came to Boomers permanently meeting Kzack (Mike) he was always such a nice guy and made great conversation....He always seemed upbeat and was a joy to have in the room..He will be greatly missed and my prayers go out to Merlene....I've missed seeing her around over the last few years as well...At times like this it makes me miss the old Boomer Room even more ....Those days were the best! My Love, Carri aka Fortyfine...
---
I was very sad to hear of their homegoings...but I am sure that God received them with open arms...They were both very lovely people and will be greatly missed. My thoughts and prayers will remain with their families.... Charlene aka Stella
She is Joby by gosh. So many memories a few years back. We joked so many times about osh kosh and jobygosh. Everytime she came on, I told her, hey there joby by gosh!!!! I knew something was up. About when the room toned down. Joby, are you listening? You were quiet all of a sudden. Joby, you were one of my favorites, did you know that? I'll always remember you Jody, by gosh. Hearing of your passing hurts more than words. Joby, sending you prayers to heaven, and I will always love you dearly.. you are always, truly a beautiful person.With love and caring, Kea aka Keabird7
---
I am so saddened by the loss of our boomers..most recently *Jobygosh* and *Kzack55*, such truly great friends, that I enjoyed immensely. We all will miss them.. I know they are now making a very special boomer room in the event any more of us show up. ~!! Life is definitely fragile and with respect I trust in God and life here after. Fluffy Lou
---
Michael and I had the pleasure of rooming with Nancy and Dean in San Antonio. Nancy was a very sweet and kind person and always a joy to have in the room. She will be greatly missed and my deepest sympathy goes out to her family.
I never had the pleasure of meeting Mike or his wife in person but he was always a joy in the room. He was very likable and always a gentlemen. He too will be greatly missed and my deepest sympathy goes out to his family. Terre aka CorleyGrl
---
I am SOOOOOO sorry to hear that Jobgosh and KZack55 (Nancy and Mike) have passed away. These guys were some of the ORIGINALS from Boomerville and they will be missed. My sympathy and prayers are with their families. My wish is that their memories will bring them much comfort and peace. A friend,, BGreen (Nancy)
---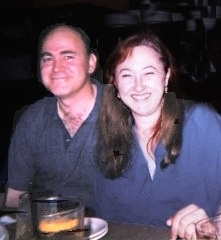 Return to the Remembrance Page
Return to the Boomer Main Page