UNIDENTIFIED PLANTS
Central Valley, California, Zone 9
I have many plants I have not been able to identify, pictured below. Identified plants are at the bottom of the page.
If you know the names of any of the pictured plants, I would appreciate an email.
If you have pictures of unidentified plants, I would be happy to post them.
Unknown Plant #1 (above)

Tiny 1/2" deep throated clustered white flowers, on 2-3 foot upright branches.
Blooms in the summer, pictured flowers are starting to deteriorate. Shade.
Unknown plant #2 (above)
Polygonum persicaria L.aka Smart Weed, Ladies Thumb?

Light green, long leaves, white seed groups on stems
Found in the shade, quite tough, seeds fall easily
Might be a weed, ok, this IS a weed.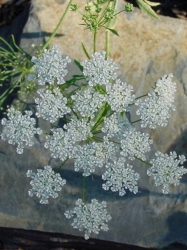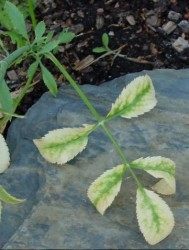 Unknown plant #3 (above)
Western Water Hemlock, Cicuta douglasii?
Very much like Queen Anne's lace but a rose type leaf. Full sun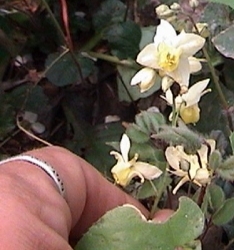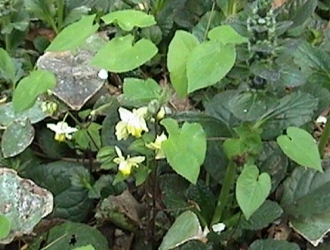 Unknown plant #4 Epimedium? Bishops Hat?(above)
This perennial lives in the forest, no direct sunlight.
About 12" high at the most with thin, paper like leaves, tiny spring yellow daffodil style flowers
Unknown plant # 5 (above)

Doesn't like full sun, very spindly when young, spiny, long stems and leaves
Unknown plant # 6 (above)

Lanscaping bush, prickly holly like leaves, small fragile red flower in clusters
Unknown plant # 7 (above)

Very hardy, dies back and resprouts, ever so fragile stems.
Indoors, shade, plentiful water.
IDENTIFIED!
Paraguay nightshade
(Solanum rantonnetii)
aka Blue Potato Bush
Thank you Laurrie
Morning_Glory_Vines
@yahoogroups.com !!

Fleabane
Erigeron karvinskianus
Thanks to Margaret Rainbow Web
@ http://www.merlin.net.au/~arachne

Alocasia odora california
Thanks to Margaret Rainbow Web
@ http://www.merlin.net.au/~arachne
Multiplys quite quickly. 24" leaf
Strictly shade and lots of water.
Dies off in winter if not protected.
Helichrysum italiacum aka Curry Plant
Thanks to Margaret Rainbow Web
@ http://www.merlin.net.au/~arachne

Jimsonweed
Datura - poisonous

Tomatillo
Flax Lily
Dianella tasmanica
Seeds are for sale at the Seedstore

Nightshade - POISONOUS!
Pulling this plant requires
washing your hands and arms asap.
Looks like Tomatillo

Germander
Seeds are for sale at the Seedstore
Idaho Locust
Robinia x ambigua 'Idahoensis'

Viper's Bugloss / Blue Weed
Echium vulgare

Coreopsis tinctoria
Seeds from Monet's Garden
Velvet Leaf
Abutilon theophrasti
Velvet Leaf, Butter Print, China Jute

False Freesia
Anomatheca laxa

Gladiolus
communis ssp byzantinus
Jerusalem Sage
Phlomis fruticosa

Comfrey
Symphytum

Scented geranium
Sweet Melissa
Firecracker Plant
Russelia equisetiformis

Spanish Poppy
P. atlanticum
Upright Verbena
Verbena bonariensis

chionodoxa
Glory of the snow
Crested Echinopsis
Catepillar Plant

Opuntia or Cylindropuntia
or Austrocylindropuntia Genera

Cereus forbesii cv. Ming Thing
---
---